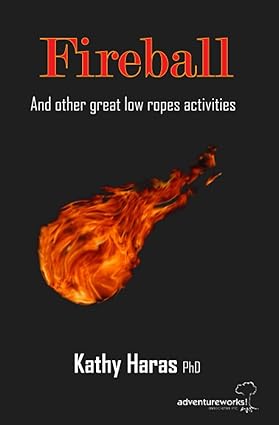 Fireball: And other great low ropes activities
This item is currently on back-order.
Item may still be ordered at this time.
Please anticipate up to 4-6 weeks for delivery, or contact our office for additional details regarding delivery timelines.


---
Fireball breathes new life into your low ropes course program.
The guide's 120 + activity variations provide new and innovative ways to engage your participants and sta in low ropes programming.

This resource is the result of pandemic induced creativity combined with the author's 25 years working with diverse groups of people. Add a few rubber chickens, a few hula hoops, a few dragon inspired framings and an exercise ball and you have a guide providing activity variations which can be used on popular low ropes course elements. These activities can be used to facilitate intentional growth and learning for a wide range of ages and types of groups.

About the Author:
Kathy Haras is Vice President at Adventureworks! Associates Inc. Kathy is a challenge course facilitator, trainer, designer, installer and inspector. Kathy holds a Ph.D. in Recreation, Park and Tourism Sciences from Texas A&M University. Kathy is co-author of the textbook Aerial Adventure Environments: The Theory and Practice of the Challenge Course, Zip Line, and Canopy Tour Industry. Kathy is the 2022 Recipient of the Critical Link Award from the ACCT.
---
We Also Recommend
---