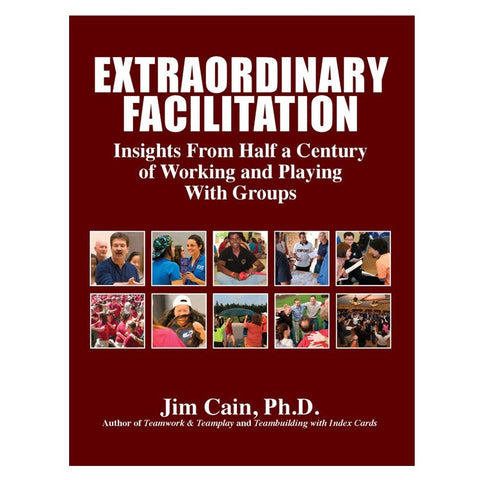 Extraordinary Facilitation. by Jim Cain
Announcing one of the most comprehensive books ever written on group facilitation. A project fifty years in the making. Extraordinary Facilitation: Insights From Half a Century of Working and Playing With Groups is Jim Cain's contribution to the world of group facilitation and features the collective voices of twenty-four of the world's most exceptional teachers, trainers, facilitators, and group leaders of all kinds. In 352 pages, Jim provides tips, tools, best practices, insights, and sage advice for improving your facilitation skills, including twenty-one of his most effective and most requested activities of all time, and a dozen essential models that all group facilitators should know. Within each and every page, Jim shares a critical piece of the facilitation puzzle and offers the opportunity to expand your facilitation horizons and become the best facilitator you can be. One chapter of the book, featuring tips and tools, covers more than one hundred pages and offers the reader an instructive collection of homework assignments to further improve their facilitation skills. Another part of this invaluable book presents first-person accounts and stories on facilitation. In addition, the book includes an unusual collection of reference books worth their weight in gold, as well as a fascinating chapter on cogitation, incubation, and the art of sustained thinking (a skill possessed by many of the world's best group leaders). There's also a chapter on the new and rapidly expanding world of virtual facilitation. This book is for anyone who wants to become the best facilitator they can be.
Teambuilding guru Dr. Jim Cain is the author of twenty-five outstanding books filled with team and community-building activities from around the world. This book Extraordinary Facilitation, explains in great detail the various tips, tools, activities, and techniques that made that all possible. Learn how you can improve your own facilitation skills from one of the industry's best, plus the collective wisdom of leaders, including: Michelle Cummings, Kirk Weisler, Ruby Compton, Chad Littlefield, Shawn Moriarty, Guido Cremonesi, Mike Lim, John Berkley, Diane Tyrrell, John Losey, Tom Heck, Dick Hammond, Scott Goldsmith, Lindsay Walton, Dave Vermilye, Raj Sandhu, Faith Evans, Sam Sikes, Bill Henderson, Monica Barrios, Bonnie Anderson, Barry Jolliff, and Chris Cavert.
---
We Also Recommend
---