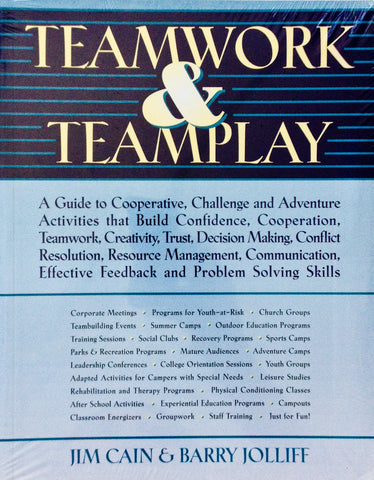 Teamwork & Teamplay
A Guide to Cooperative, Challenge and Adventure Activities that Build Confidence, Cooperation, Teamwork, Creativity, Trust, Decision Making, Conflict Resolution, Resource Management, Communication, Effective Feedback, and Problem Solving Skills.
by Jim Cain and Barry Joliff
This text contains a variety of challenge and adventure activities that bring a group together. Not just the familiar activities but some simple and excitingly new activities. Techniques for planning a challenge program are provided, as are instructions for creating some of the most basic and useful equipment for these challenge activities. There is also an extensive list of references and resources that the authors have found useful. Finally, and possibly most importantly, throughout this book you will find hints, insights, tricks, and rare pieces of the authors' philosophy that they feel are necessary to turn a typical challenge and adventure program into an outstanding challenge and adventure program.
---
We Also Recommend
---