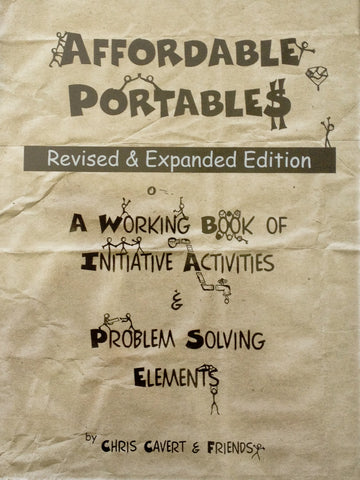 Affordable Portables
by Chris Cavert & Friends
A must for educators, counselors, and trainers who enjoy and understand the benefits of adventure-based activities. This is a book of initiative activities and problem-solving elements that you can create and use to start your own portable experiential challenge program or enhance the program you already have. All of the ideas here are presented with a tight budget in mind. The purpose is to provide a way for human services providers to afford the benefits challenge programming can offer.
This expanded edition adds of 50 variations to the existing initiatives and elements to increase your programming options with fewer props. It includes more than 10 additional elements over the previous edition including Raccoon Circles, and The Cube. There is also the PVC Bun-G-Box that breaks down into 5 different activities.
If you are into active participation you will get it here.
Included:
Easy-to-follow instructions for creating or enhancing a low-cost experiential challenge programs.
Tips on group facilitation and processing.
Initiative games.
Problem solving elements.
Construction & setup plans
Additional resources information
---
We Also Recommend
---