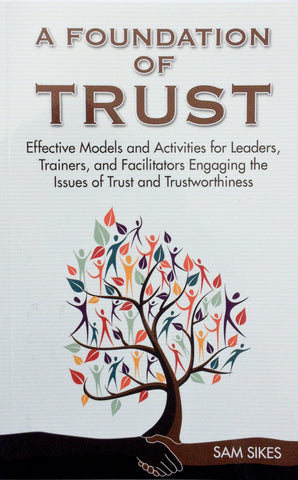 A Foundation of Trust
Effective Models and Activities for Leaders, Trainers, and Facilitators Engaging in the Issues of Trust and Trustworthiness
by Sam Sikes
Work better together - spend less energy watching your own back and looking over the shoulders of others. Know how you can become more trustworthy to those around you.
Trust is a basic need in all relationships. It allows us to experience, explore, and achieve with other people in ways that we could never do on our own. Trust is at the foundation of every successful team and family. As a trainer, leader, or facilitator, you will benefit from this practical guide to develop trust and trustworthiness.
Inside this book you will discover several models and over a dozen experiential activities that will help you understand how to engage the topic of relationship trust with teams and human relationships of all kinds. there is a chapter on the topic of trustworthiness and how to keep intended commitments.
Also included in the book is information to access online instructional videos and other trust aids.
---
We Also Recommend
---