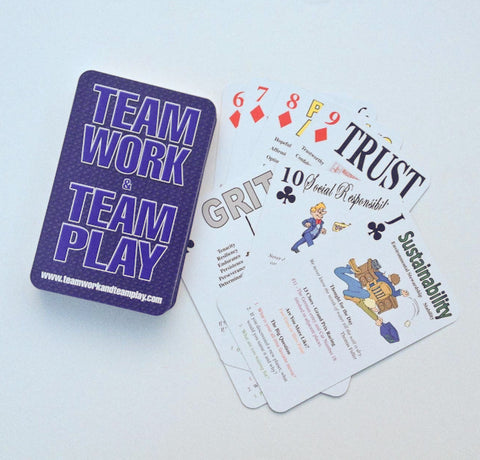 Teamwork & Teamplay Cards
With this newly redesigned deck of cards by Jim Cain, you can facilitate over a dozen powerful team and community building activities. In addition to the 52 cards in a typical deck, this collection also includes additional debriefing cards, puzzles, challenges, icebreaking questions, character building activities, games and instructions for helping you utilize the power of these cards to the fullest.
1. Thirteen Clues - Four different mysteries to be solved.
2. Thought For the Day - Inspirational quotes and messages.
3. The Big Question - Three levels of icebreaking questions.
4. Character Match Game - Exploring character actively.
5. Thumbprints - A visual debriefing activity.
6. I Doubt It - A simple card game that explores trust.
7. Personal Pyramid - A presentation of personal values.
8. Hieroglyphics - A linguistic challenge for groups.
9. Acronyms - A second linguistic challenge for groups.
10. Treasure Hunt - A mathematical group discovery activity.
11. Card Tricks - Jim's three favorite card challenges.
12. Tongue Twisters - A third linguistic challenge for groups.
13. The 15th Object - A game with a teachable moment.
14. Are You More Like? - Conversation and choices.
15. Pass the Deck - A fast-paced problem solving activity.
16. Stack the Deck - A fast-paced sorting activity for groups.
17. Watch 4 It - Real life examples of character words.
---
We Also Recommend
---