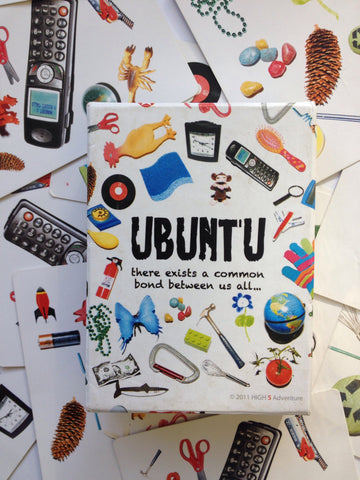 Ubuntu Cards
This item is currently on back-order.
Item may still be ordered at this time.
Please anticipate up to 4-6 weeks for delivery, or contact our office for additional details regarding delivery timelines.


---
Developed by our friends at High 5 Adventure Learning, UBUNTU Cards provide facilitators with a simple and engaging tool for connecting groups in an almost endless array of conversation starters, games and problem-solving initiatives as well as serving as a powerful tool for processing the adventure experience.

Ubuntu Cards embody the African philosophy of Ubuntu. Pronounced oo-boon-too, it means "I am because we are." and celebrates the common human bond that exists within each and every one of us.
Purchase with the Ubuntu Activity Guide to complete your kit.
Want to learn how to use UBUNTU Cards in the virtual world? Join the team from High 5 Adventure Learning on February 26, 2021 for Virtual Ubuntu Activities workshop.
---
We Also Recommend
---